Fully Customized Modular Kitchen Design in Bhubaneswar
Our designers for modular kitchens have a unique ability to understand client requirements and provide the best-specialised space planning for modular kitchens. We make modular kitchens that look fantastic and are also highly practical. We can continue to be a leader in this field because of our creative designs, ground-breaking ideas, and ability to deliver products on schedule.
Key Benefits of a Modular Kitchen Design
Simple and Practical – In the modern world, most people are looking for ways to maximise their tiny spaces rather than larger ones. Many goods in a kitchen need to be accessible, thus they need to be stored properly. In this case, modular kitchen interior ideas are helpful. A modern U-shaped modular kitchen design is one example of a modular kitchen style that was developed with the need for easy access to our goods in mind.
Adaptable to Customizable – Indian modern modular kitchen design also offers a lot of adaptability to your needs and preferences. Typical traditional kitchen accessories come pre-installed, such a wall shelf or an antique glass cabinet. Both the greatest alternative for keeping all of your kitchen necessities and the decor of the rest of your house do not match with these.
Attractive and Appealing – You can get the kitchen cabinet doors in the same colour scheme as the rest of your house. If your home interior design ideas are influenced by a theme, such as rustic, floral, modern, minimalistic, etc., these cabinets and installations can be customised to fit the colour or style of your choosing.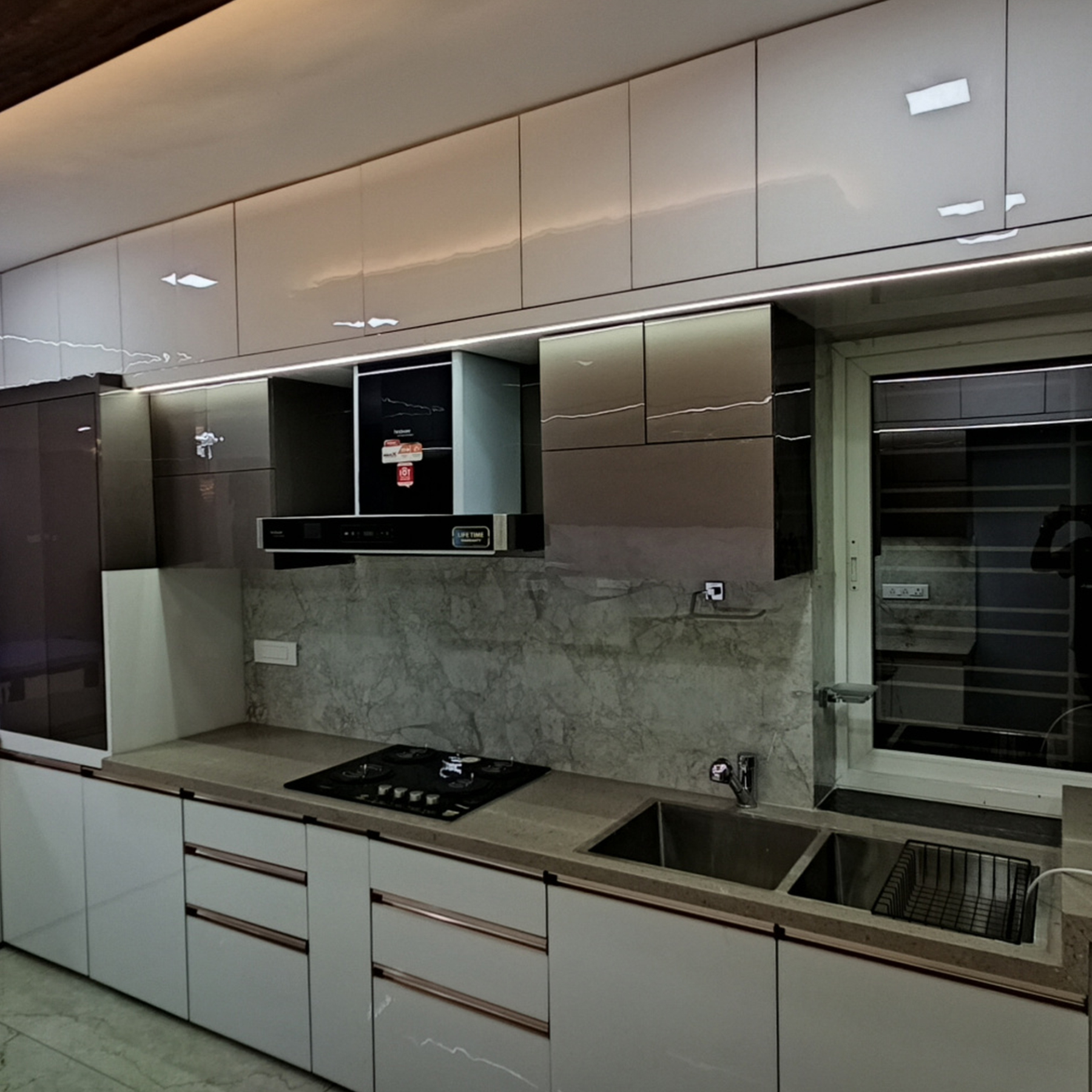 Frequently Asked Questions
What are the different types of modular kitchen?
You may determine the kitchen layout that would work best for your house while keeping in mind the kitchen's floor plan, including its walls, doors, and utilities. The six most typical designs for modular kitchens are:
1. L-Shaped
2. Straight Line
3. U-Shaped
4. Parallel or Galley
5. Island
6. G-Shaped or Peninsula
Why should I install a modular kitchen?
The benefits of installing a modular kitchen outweigh the one-time cost. A modular kitchen is created in a way that efficiently utilises the space that is available. It aids in organising storage, the positioning of containers, utensils, etc. Maximum comfort is offered without sacrificing aesthetic appeal.
What are the benefits of a Modular kitchen?
A modular kitchen has a modern and elegant appearance and makes excellent use of the available space. Follow are some of the key benefits of a modular kitchen,
1. You can adjust the storage capacity to fit your specific requirements.
2. Add facilities as per your choice.
3. Utilize the maximize space.
4. Make as per your budget.
5. Choose your favourite color combinations.
6. Easy to maintain.
Will you provide a layout plan and 3D design for our modular kitchen?
Yes, we will provide a layout plan and 3D design for you kitchen. We charge between INR 5000-1000 to design one kitchen. If you place the order with us, we will adjust the same in the total cost. So, Plan and 3D design comes absolutely free of cost.
How much time will it take to design and build my kitchen?
Once we take the measurements and discuss the requirements our expert designers will plan and design the 3D models of your kitchen. The designing process would take nearly 1 week time. We will need 4-6 weeks' time to build and install the kitchen at your home form the date of order.
How much would cost of modular kitchen in Bhubaneswar?
The price of a modular kitchen in Bhubaneswar is determined by a variety of elements, including size, finish, hardware, number of drawers and doors, type of accessories utilised, etc. Therefore, a kitchen's price cannot be determined solely by its size. However, an estimate for a standard-sized kitchen with basic fixtures is between 1.5 and 2.0 lakhs.
Which type of material is the best for modular kitchen?
The most preferred and used material is BWP Plywood for kitchen cabinets. Moreover, many brands have come up with innovative material for cabinet making such as WPC and HDHMR Boards.
Which is best color for kitchen?
White, grey, blue, red, yellow, and green are the colours that stand out the most when it comes to kitchens. Although each of these hues contributes something unique to the ambiance of the room, taken together they assist make it cosier and more inviting. It is widely held that warmer colours, such as red, can enhance one's hunger, making them a great choice for use in kitchens.
Which finish is best for modular kitchen?
Acrylic Finish is the new trend in modular kitchen. Acrylic is a high gloss reflective finish that gives a shiny, modern look to your kitchen. You can also go for super high gloss laminates with good quality PVC edge banding.
What are the different types of kitchen platform?
There are five fundamental configurations that can be used for a kitchen: an L-shape, a G-shape, a U-shape, a single platform, and an island platform. In most cases, the arrangement of the space will be determined by its dimensions and its shape. The majority of kitchen designs adhere to one of the following shapes, despite the fact that there are a few exceptions and modifications.
Which is best choice for kitchen counter top?
Granite is the best choice material that should be used for kitchen countertops. This natural stone is available in a variety of hues and it very low porosity and is budget-friendly. There are many more choices available in addition to granite, such as quartz, white stone, ceramic tiles, porcelain, and so on.
What different kitchen baskets should you choose for your kitchen?
The number of kitchen baskets you can use for your kitchen depends on the size of the kitchen and your requirements. But you need to have minimum these baskets in your kitchen. Cutlery tray, Plates tray, Cup & Saucer basket, Bottle Pull Out, Pan Basket, Grain Basket, Garbage Basket, Corner Swing-out.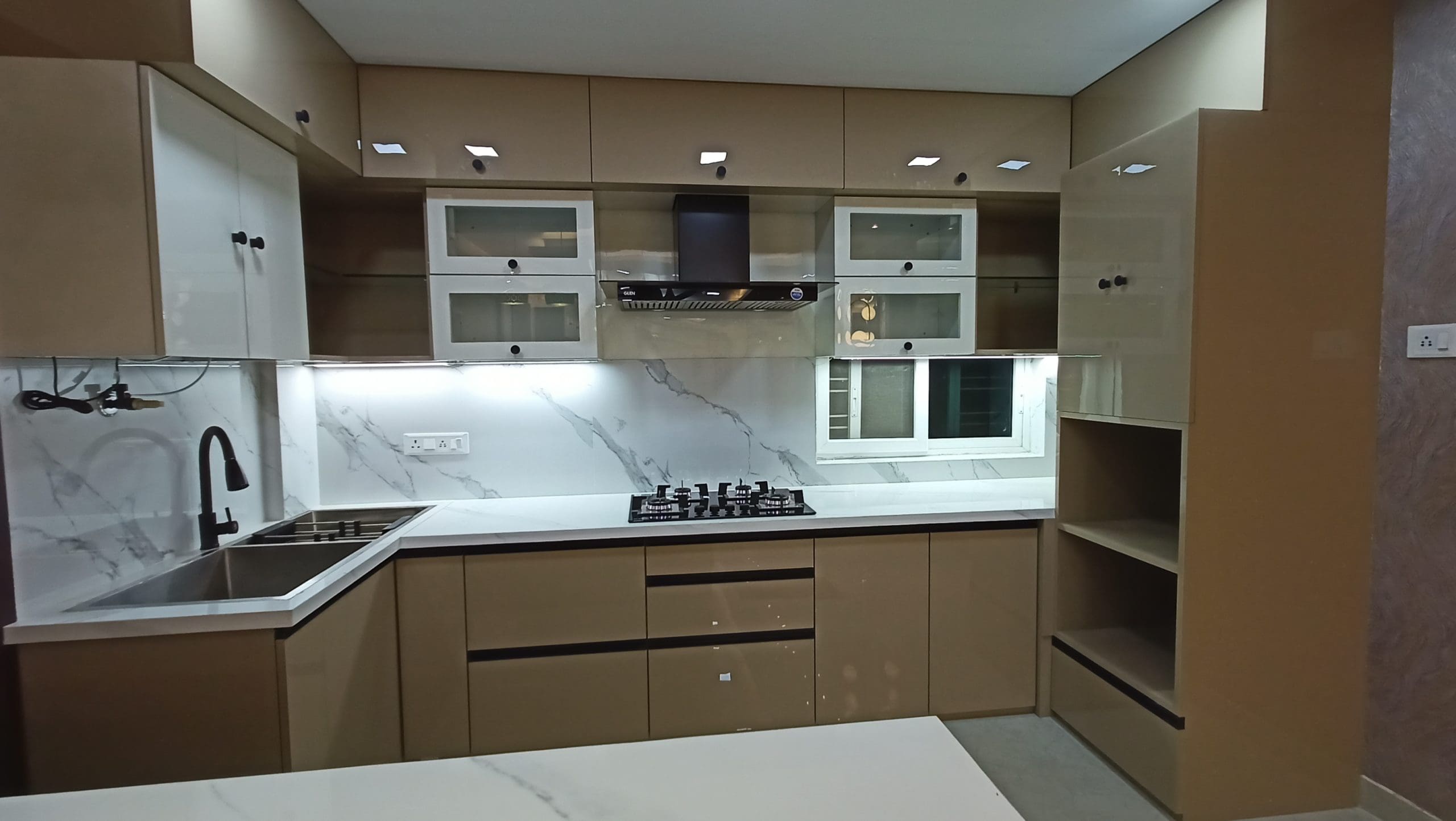 Why Choose Kriti Kreations Interior Design & Decor for Modular Kitchen Design in Bhubaneswar?
Our skills in kitchen interior design, kitchen cabinet design, and other contemporary kitchen design services can undoubtedly assist you in creating a comfortable and hassle-free kitchen atmosphere. Kriti Kreations Interior Design & Decor is the greatest option among all of its competitors if you're seeking for the best kitchen interior design in Bhubaneswar, Odisha. For all of your kitchen design, kitchen cabinet design, and other modern kitchen design requirements. Please feel free to get in touch with us for any of your modular kitchen design needs, including interior and cabinet design. We are pleased to help.
We take great pleasure in being able to provide entire modular kitchen designs that are both beautiful and long-lasting and customised to you and your lifestyle. Our creative staff creates attractive modern kitchen designs. We build modular kitchen, which is functional, attractive, and well-designed in Bhubaneswar, A G Colony, Acharya Vihar, Ashok Nagar, Bapuji Nagar, Bhauma Nagar, Bhoi Nagar, Ekamra Vihar, Forest Park, Ganga Nagar, Keshari Nagar, Kharavella Nagar, Madhusudan Nagar, Master Canteen, Saheed Nagar, Satya Nagar, Surya Nagar, Nayapalli, Samantarapur, BJB Nagar, Rajarani Colony, Pandav Nagar, Brahmeswar Bagh, Lingaraj Nagar, Gouri Nagar, Bhimatangi, Kapileswar, Old Town, Chandrasekharpur, Damana, Infocity, Sailashree Vihar, Niladri Vihar, Rail Vihar, Nalco Nagar, Gajapati Nagar, Vani Vihar, Salia Sahi, Jaydev Vihar, IRC Village, Patia, Gandamunda, Pokhariput, Palaspali, Bhimatangi, Dumduma, Sundarpada, Balabhadrapur, Kantilo, Ebaranga, Patrapada, Tomandao, Kalinga Nagar, Ghatikia, Mancheswar, VSS Nagar, Rasulgarh, Palasuni, Satya Vihar, Jharpada, Laxmisagar, Pandra, Tamando, Kalinga Nagar, Janala, Dumuduma, Jagamara, Uttara.
Photos of a few kitchens we have designed in Bhubaneswar & Cuttack
BHUBANESWAR
A-7, 2nd Floor, Sector A, Mancheswar IE Road
Bhubaneswar, Odisha 751010