Exclusive Modular Kitchen Offer from Kriti Kreations Modular Kitchen: Get a FREE Hindware 60 CM Chimney!
Are you ready to elevate your kitchen experience to the next level? We're thrilled to present an incredible offer that will transform your kitchen. Book your Modular Kitchen Design with us in Bhubaneswar today and get a Brand New Hindware 60 CM Chimney absolutely FREE!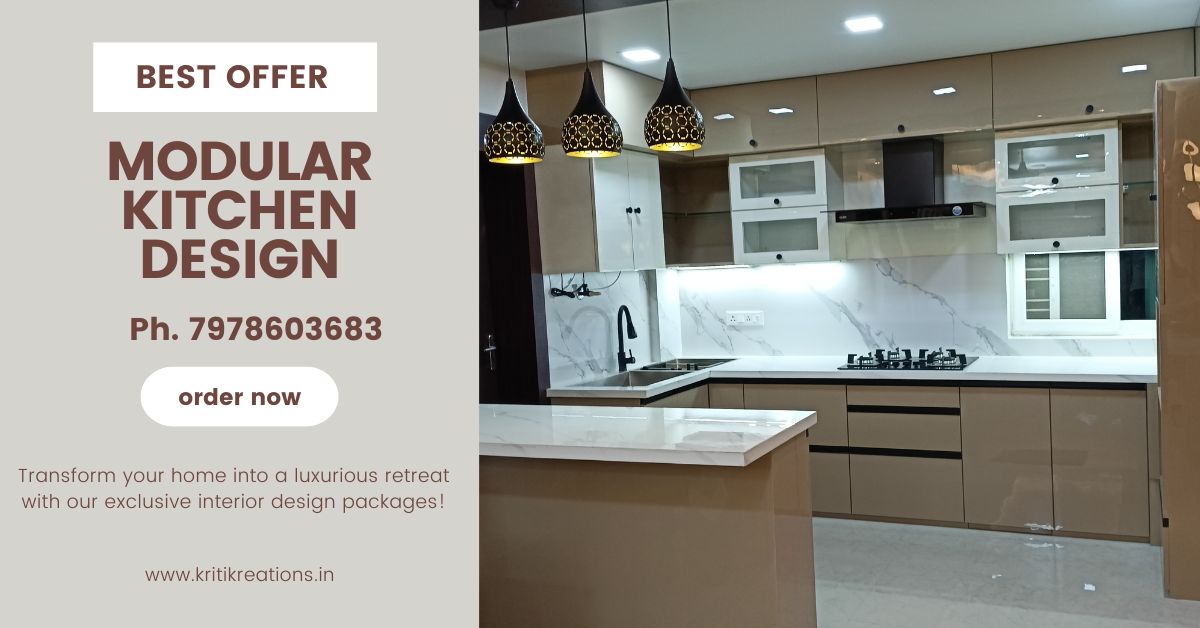 Why Choose Our Modular Kitchen Design
Expert Design: Our team of skilled designers will create a modular kitchen that perfectly suits your style and needs, maximizing functionality and aesthetics.
Premium Quality: We use top-notch materials and craftsmanship to ensure your modular kitchen stands the test of time.
Customization: Tailor every element of your kitchen design to reflect your unique taste and preferences.
Space Optimization: Make the most of your kitchen space with clever storage solutions and efficient layouts.
Hassle-Free Installation: Our experienced professionals will handle the installation process seamlessly, so you can start enjoying your new kitchen in no time.
How to Avail This Offer
Contact us to schedule a consultation and discuss your modular kitchen requirements.
Work with our designers to create a customized kitchen design that aligns with your vision.
Confirm your modular kitchen booking before the offer deadline to qualify for the FREE Hindware 60 CM Chimney.
Don't miss out on this amazing opportunity to enhance your kitchen with a FREE Hindware Chimney, renowned for its quality and performance. Elevate your cooking experience and add a touch of elegance to your home today!
Offer Details
Offer Deadline: 31st Aug, 2023
Location: Bhubaneswar
Limited Time Offer: Book your modular kitchen by 31st Aug, 2023 (Offer valid for first 10 orders) to avail of the FREE Hindware 60 CM Chimney.
For inquiries and booking appointments, CALL or WHATSAPP us on 7978603683.
Visit Our Interior Design Studio at Bhubaneswar Pt No – A/7 (2nd Floor), Mancheswar IE, Bhubaneswar, 751010
Transform your kitchen into a masterpiece of style and functionality with our Modular Kitchen Design services. We look forward to partnering with you to create the kitchen of your dreams!
Terms and conditions apply. Offer subject to availability and may be subject to change without prior notice.