Welcome to Kriti Kreations Interior Design & Decor, your go-to destination for all your bedroom interior design needs in Bhubaneswar, Odisha. Our team of highly skilled and experienced professionals is dedicated to creating beautiful and functional spaces that reflect your personality and style. We understand that the bedroom is the most personal space in your home, and it is important to design it in a way that makes you feel relaxed and comfortable.
At Kriti Kreations Interior Design & Decor, we offer a wide range of bedroom interior design services that cater to your unique needs and preferences. Our team works closely with you to understand your lifestyle, design preferences, and budget to create a personalized design plan that meets all your requirements.
We specialize in creating beautiful and functional bedroom spaces that maximize the available space while maintaining a clean and clutter-free look. Our experts have a keen eye for detail and use high-quality materials to ensure that your bedroom is not only beautiful but also durable and long-lasting.
How to choose the right theme for your Bedroom Interior Design?
The bedroom is one of the most important areas of a home, where you spend a significant amount of time relaxing and rejuvenating. Therefore, it is crucial to choose the right theme for your bedroom interior design. Here are some tips to help you select the perfect theme for your bedroom:
Consider Your Personal Style – Your bedroom should be a reflection of your personality and style. Choose a theme that complements your personality and aligns with your taste. For instance, if you prefer a classic and elegant look, opt for a traditional theme, while if you prefer a contemporary and modern look, choose a minimalist theme.
Take Inspiration from Your Favorite Places – Your bedroom should be your haven, and taking inspiration from your favorite places can help create a peaceful and relaxing ambiance. For instance, if you love the beach, consider a coastal theme, or if you enjoy the countryside, choose a rustic theme.
Think About the Color Scheme – The color scheme plays a significant role in determining the overall ambiance of your bedroom. Choose colors that evoke a sense of tranquility and relaxation. Soft blues, greens, and neutrals are popular choices for creating a calm and soothing atmosphere.
Consider the Size of Your Bedroom – The size of your bedroom also plays a role in determining the theme. For instance, if you have a small bedroom, a minimalist theme can help create a spacious and uncluttered look, while a traditional theme with heavy furniture can make the room look cramped.
Keep It Simple – When it comes to bedroom interior design, less is often more. Choose a simple and elegant theme that is easy to maintain and doesn't require too many accessories or decor items.
Choosing the right theme for your bedroom interior design requires careful consideration of your personal style, inspiration from your favorite places, color scheme, size of the room, and keeping it simple. By following these tips, you can create a beautiful and comfortable space that is perfect for relaxing and unwinding.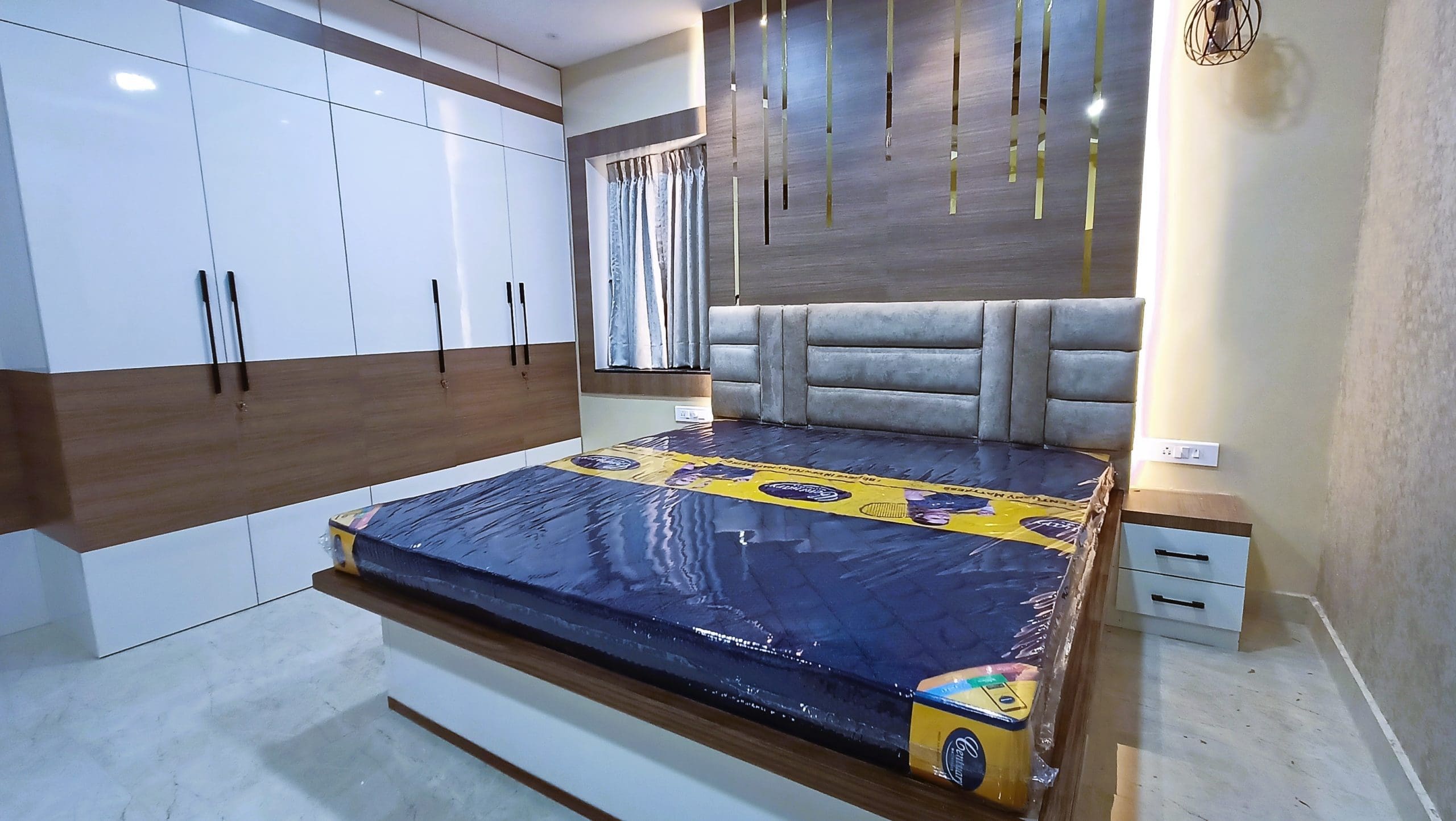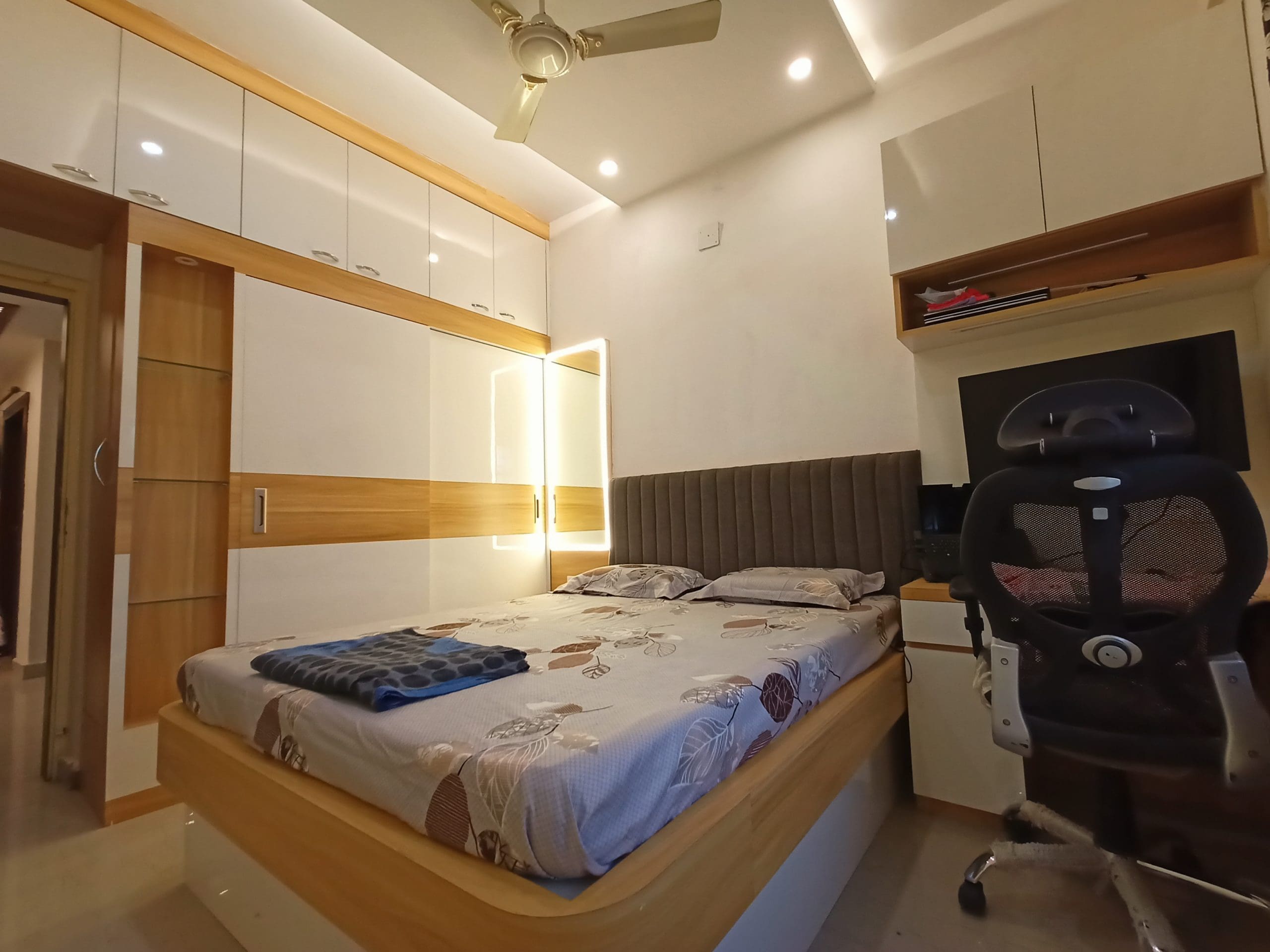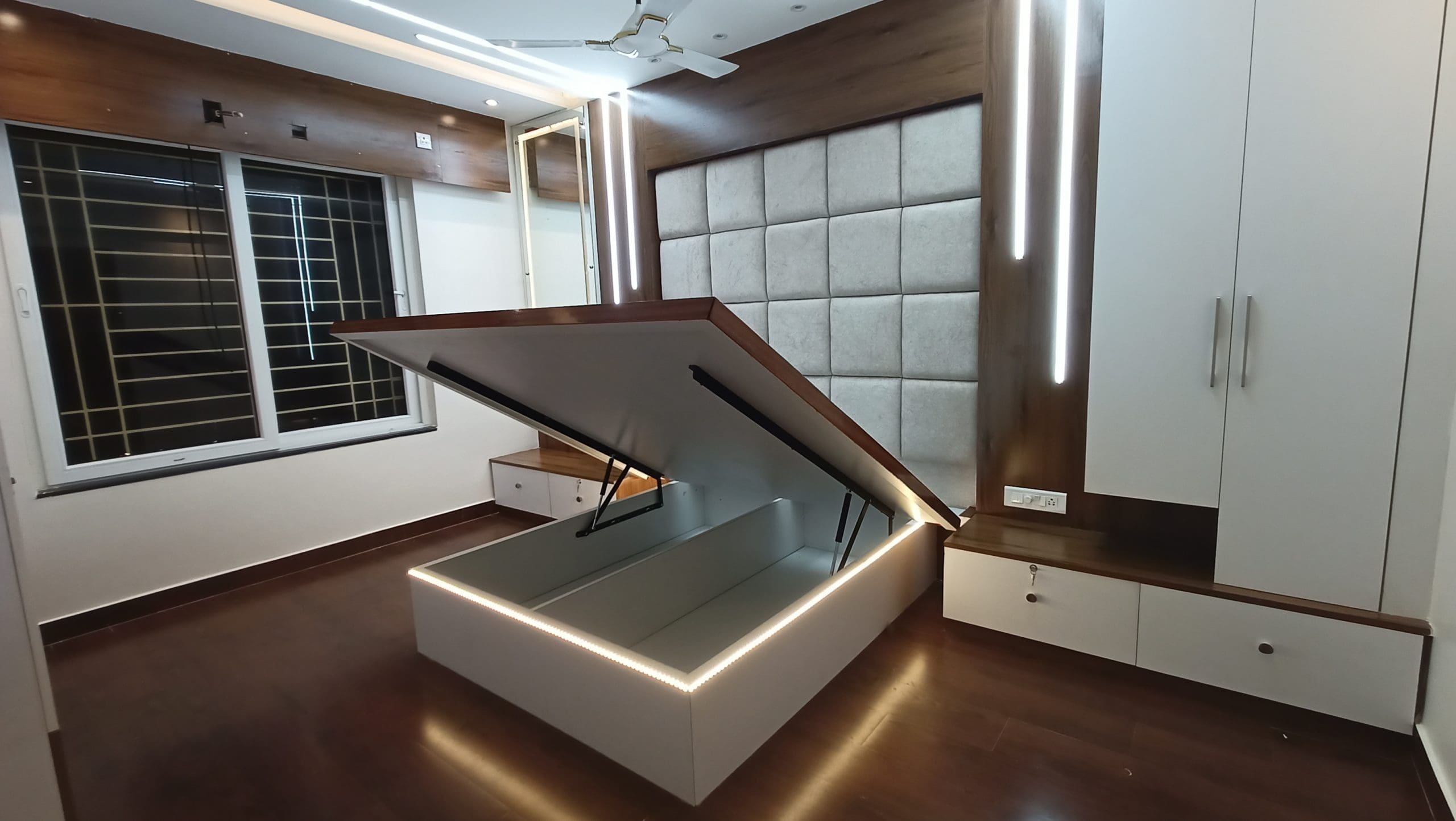 What bedroom furniture is essential?
The bedroom is a place where you relax and recharge, therefore it's crucial to have furniture that encourages comfort and relaxation. The following bedroom furniture essentials are listed:
Bed : The bed is the most important piece of bedroom furniture. Choose a bed that matches your choices for aesthetic and comfort. Think about the bed's size, mattress type, and frame material.
Nightstands are useful and fashionable additions to any bedroom. They offer space for storing books, phones, and other sleep necessities. Choose a nightstand that blends in with the design of your bed and other furniture.
Dresser : For storing clothing and accessories, a dresser is a necessity. Choose a dresser that has enough storage capacity, keeping in mind its size and style to complement your bedroom's decor.
Wardrobe : If your bedroom lacks a built-in closet, think about installing a wardrobe to house your clothing and footwear. Your bedroom's decor can also benefit from the addition of a wardrobe.
Chair: Including a chair in your bedroom allows you to set up a cosy reading or relaxing space. Choose a chair that matches your tastes for both style and comfort.
Vanity: A vanity is a useful area for getting ready while also adding a touch of glitz to your bedroom. Choose a vanity that has enough room for storage, and think about adding a mirror and lights.
Remember to consider both aesthetic and usefulness when choosing bedroom furniture. Choose bedroom furniture that matches your particular preferences and the room's general decor.
How to choose perfect décor products for your bedroom?
The decor of your bedroom can create a significant impact on the overall look and feel of the space. It can add character, depth, and personality to the room. However, choosing the perfect decor products for your bedroom can be overwhelming with so many options available. Here are some tips to help you choose the perfect decor products for your bedroom:
Consider the Theme: The decor products you choose for your bedroom should complement the overall theme and color scheme of the space. For instance, if you have a modern and minimalist bedroom, go for sleek and simple decor items. On the other hand, if you have a rustic or bohemian-themed bedroom, choose decor items that have a natural and earthy look.
Keep it Functional: The decor items in your bedroom should be functional and serve a purpose. For instance, a decorative mirror can add to the aesthetics of the room while also serving a functional purpose.
Mix and Match: Mixing and matching different decor items can add depth and character to your bedroom. However, be mindful of creating a cluttered look. Balance the decor items and ensure that they complement each other.
Play with Textures: Playing with textures can add a unique and luxurious touch to your bedroom. Consider incorporating soft and fluffy pillows, throw blankets, and rugs to add texture and depth.
Add Personal Touches: Finally, add some personal touches to your bedroom decor. This can be achieved by incorporating family photos, artwork, or items that have sentimental value to you.
Choosing the perfect decor products for your bedroom requires careful consideration of the theme, functionality, mix and matching, texture, and personal touches. By following these tips, you can create a bedroom that is not only aesthetically pleasing but also reflects your personality and style.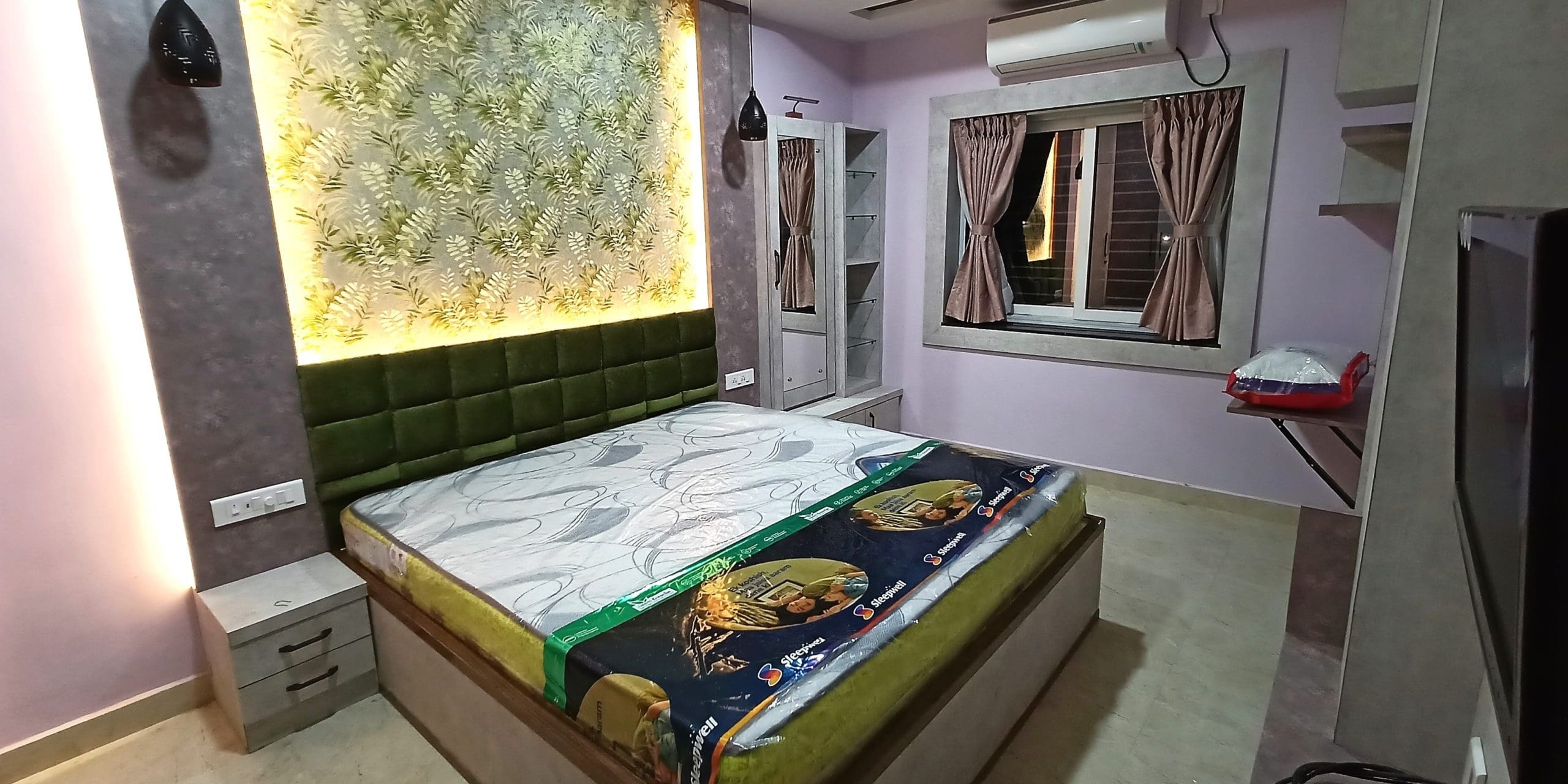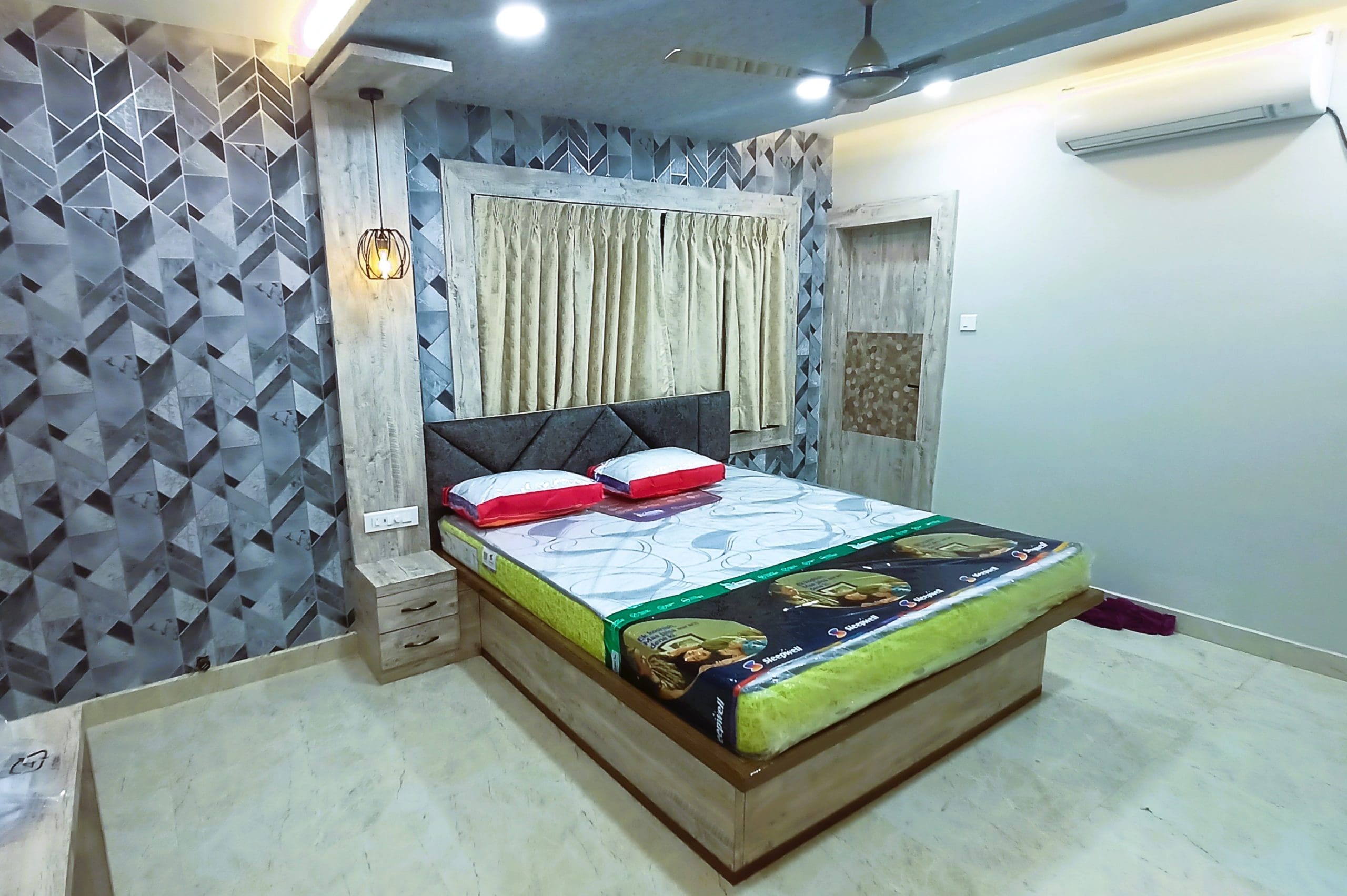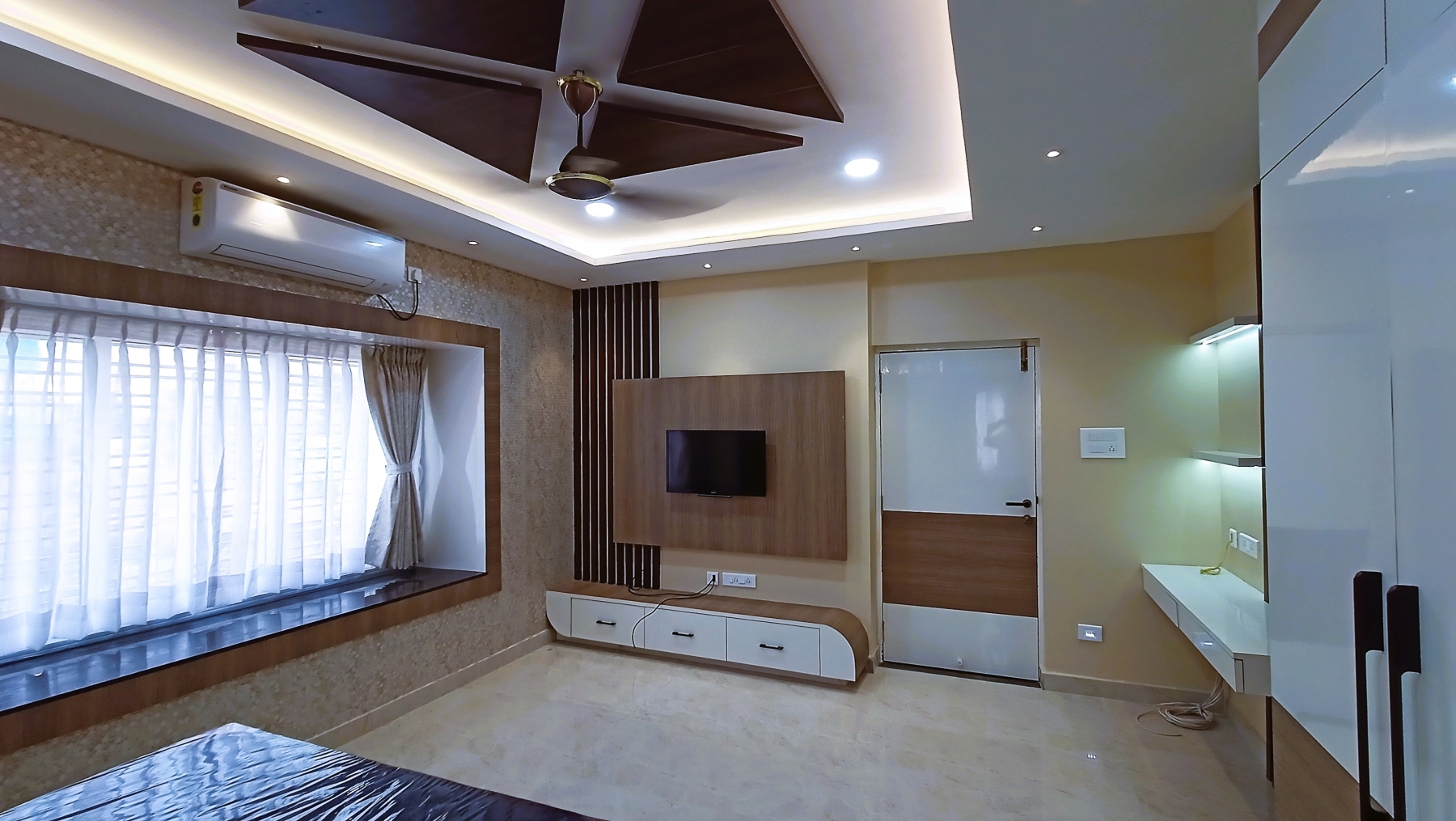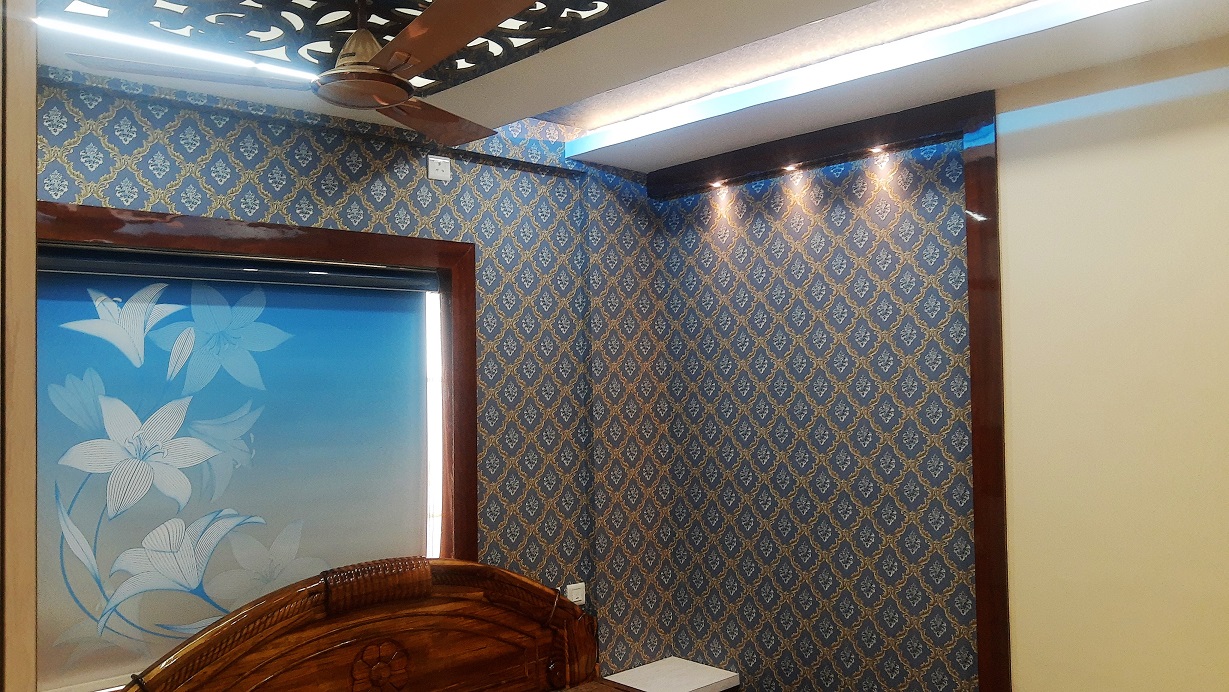 Why choose Kriti Kreations Interior Design & Decor for your Bedroom Interior Design in Bhubaneswar?
Kriti Kreations Interior Design & Decor is the best choice for your bedroom interior design needs in Bhubaneswar, Odisha. Our team of experienced designers specializes in creating custom designs that reflect the unique style and preferences of our clients. We work with you closely to understand your needs and requirements, and develop a design plan that meets both your aesthetic and functional goals.
Our team understands that every client is different, and we take great care in providing personalized attention to each project we undertake. We use high-quality materials and products to ensure durability and longevity of your bedroom design.
At Kriti Kreations Interior Design & Decor, we believe that good design should not break the bank. We work with you to develop a design plan that is within your budget, without compromising on the quality of materials or the final design outcome. Our team is committed to providing exceptional customer service, and we pride ourselves on our attention to detail and dedication to ensuring complete customer satisfaction.
Whether you are looking for a modern or traditional bedroom design, our team has the expertise and knowledge to create a space that meets all your needs. From furniture selection to lighting design, color schemes, and decor choices, we take care of every aspect of your bedroom interior design project. Contact us today to schedule a consultation and let us help you create the bedroom of your dreams.
We take great pleasure in being able to provide entire modular kitchen designs that are both beautiful and long-lasting and customised to you and your lifestyle. Our creative staff creates attractive modern kitchen designs. We build modular kitchen, which is functional, attractive, and well-designed in Bhubaneswar, A G Colony, Acharya Vihar, Ashok Nagar, Bapuji Nagar, Bhauma Nagar, Bhoi Nagar, Ekamra Vihar, Forest Park, Ganga Nagar, Keshari Nagar, Kharavella Nagar, Madhusudan Nagar, Master Canteen, Saheed Nagar, Satya Nagar, Surya Nagar, Nayapalli, Samantarapur, BJB Nagar, Rajarani Colony, Pandav Nagar, Brahmeswar Bagh, Lingaraj Nagar, Gouri Nagar, Bhimatangi, Kapileswar, Old Town, Chandrasekharpur, Damana, Infocity, Sailashree Vihar, Niladri Vihar, Rail Vihar, Nalco Nagar, Gajapati Nagar, Vani Vihar, Salia Sahi, Jaydev Vihar, IRC Village, Patia, Gandamunda, Pokhariput, Palaspali, Bhimatangi, Dumduma, Sundarpada, Balabhadrapur, Kantilo, Ebaranga, Patrapada, Tomandao, Kalinga Nagar, Ghatikia, Mancheswar, VSS Nagar, Rasulgarh, Palasuni, Satya Vihar, Jharpada, Laxmisagar, Pandra, Tamando, Kalinga Nagar, Janala, Dumuduma, Jagamara, Uttara.
Photos of a few bedrooms we have designed in Bhubaneswar & Cuttack
BHUBANESWAR
A-7, 2nd Floor, Sector A, Mancheswar IE Road
Bhubaneswar, Odisha 751010